Cheap Medical gauze and bandage machine for hospital air jet loom
Cheap Medical gauze and bandage machine for hospital air jet loom
Product Description
#detail_decorate_root .magic-0{border-bottom-width:2px;border-bottom-style:solid;border-bottom-color:#53647a;background-color:#c5ccde;margin-left:0;margin-right:0;padding-left:8px;padding-right:8px;color:#53647a;font-family:Roboto;font-size:24px;padding-top:8px;padding-bottom:4px}#detail_decorate_root .magic-1{width:750px}#detail_decorate_root .magic-2{overflow:hidden;width:750px;height:750px;margin-top:0;margin-bottom:0;margin-left:0;margin-right:0}#detail_decorate_root .magic-3{margin-top:0;margin-left:0;width:750px;height:750px}#detail_decorate_root .magic-4{vertical-align:top}#detail_decorate_root .magic-5{padding:0;margin:0;color:#333;font-size:14px;white-space:pre-wrap}#detail_decorate_root .magic-6{padding:0;font-size:16px;line-height:20px;font-weight:bold;margin:0}#detail_decorate_root .magic-7{vertical-align:top;display:block;padding-right:4px;box-sizing:border-box;padding-left:4px}#detail_decorate_root .magic-8{vertical-align:top;padding-bottom:4px;box-sizing:border-box;padding-top:4px}#detail_decorate_root .magic-9{padding:0;margin:0;white-space:pre-wrap;font-size:14px}#detail_decorate_root .magic-10{margin:0;padding:0}#detail_decorate_root .magic-11{width:750px;border-collapse:collapse}#detail_decorate_root .magic-12{padding:5px 10px;overflow:hidden;width:724px;box-sizing:content-box}#detail_decorate_root .magic-13{display:none}#detail_decorate_root .magic-14{padding:5px 10px;overflow:hidden;width:164px;box-sizing:content-box}#detail_decorate_root .magic-15{padding:5px 10px;overflow:hidden;width:163px;box-sizing:content-box}#detail_decorate_root .magic-16{padding:5px 10px;overflow:hidden;width:538px;box-sizing:content-box}#detail_decorate_root .magic-17{display:table-cell}#detail_decorate_root .magic-18{padding:5px 10px;overflow:hidden;width:537px;box-sizing:content-box}#detail_decorate_root .magic-19{padding:5px 10px;overflow:hidden;width:536px;box-sizing:content-box}#detail_decorate_root .magic-20{overflow:hidden;width:750px;height:459.507px;margin-top:0;margin-bottom:0;margin-left:0;margin-right:0}#detail_decorate_root .magic-21{margin-top:0;margin-left:0;width:750px;height:459.507px}#detail_decorate_root .magic-22{width:446px}#detail_decorate_root .magic-23{overflow:hidden;width:446px;height:264.4743935309973px;margin-top:0;margin-bottom:0;margin-left:0;margin-right:0}#detail_decorate_root .magic-24{margin-top:-70.92722371967656px;margin-left:0;width:446px;height:446px}#detail_decorate_root .magic-25{width:300px;display:flex;flex-direction:column;margin-right:0;margin-left:4px}#detail_decorate_root .magic-26{width:300px;display:flex;flex-direction:column;margin-right:4px;margin-left:0}#detail_decorate_root .magic-27{margin-top:-66.11859838274933px;margin-left:0;width:446px;height:446px}#detail_decorate_root .magic-28{overflow:hidden;width:247.33333333333334px;height:323.50184204215986px;margin-top:0;margin-bottom:0;margin-left:0;margin-right:0}#detail_decorate_root .magic-29{margin-top:0;margin-left:0;width:247px;height:329px}#detail_decorate_root .magic-30{overflow:hidden;width:247.33333333333334px;height:323.50184204215986px;margin-top:0;margin-bottom:0;margin-left:4px;margin-right:0}#detail_decorate_root .magic-31{vertical-align:top;display:inline-block;padding-right:4px;width:50%;box-sizing:border-box;margin-bottom:-4px;padding-left:4px;margin-top:-4px}#detail_decorate_root .magic-32{vertical-align:top;box-sizing:border-box;padding-top:4px}#detail_decorate_root .magic-33{width:371px;height:200px;overflow:hidden}#detail_decorate_root .magic-34{position:relative;left:0;top:-85px;width:371px;height:371px}#detail_decorate_root .magic-35{padding:0;font-size:16px;line-height:20px;font-weight:bold;color:#333;margin:0}#detail_decorate_root .magic-36{position:relative;left:0;top:-87px;width:371px;height:371px}#detail_decorate_root .magic-37{overflow:hidden;width:498px;height:320.4220821001158px;margin-top:0;margin-bottom:0;margin-left:0;margin-right:4px}#detail_decorate_root .magic-38{margin-top:-51.067269334705955px;margin-left:0;width:498px;height:373px}#detail_decorate_root .magic-39{width:248px}#detail_decorate_root .magic-40{overflow:hidden;width:248px;height:158.13223464783204px;margin-top:0;margin-bottom:0;margin-left:0;margin-right:0}#detail_decorate_root .magic-41{margin-top:0;margin-left:0;width:247px;height:185px}#detail_decorate_root .magic-42{overflow:hidden;width:248px;height:158.13223464783204px;margin-top:4px;margin-bottom:0;margin-left:0;margin-right:0}#detail_decorate_root .magic-43{overflow:hidden;width:373px;height:321.7250673854448px;margin-top:0;margin-bottom:0;margin-left:0;margin-right:0}#detail_decorate_root .magic-44{margin-top:0;margin-left:0;width:373px;height:373px}#detail_decorate_root .magic-45{overflow:hidden;width:373px;height:321.7250673854448px;margin-top:0;margin-bottom:0;margin-left:4px;margin-right:0}#detail_decorate_root .magic-46{margin-top:-40.2156334231806px;margin-left:0;width:373px;height:373px} Product Description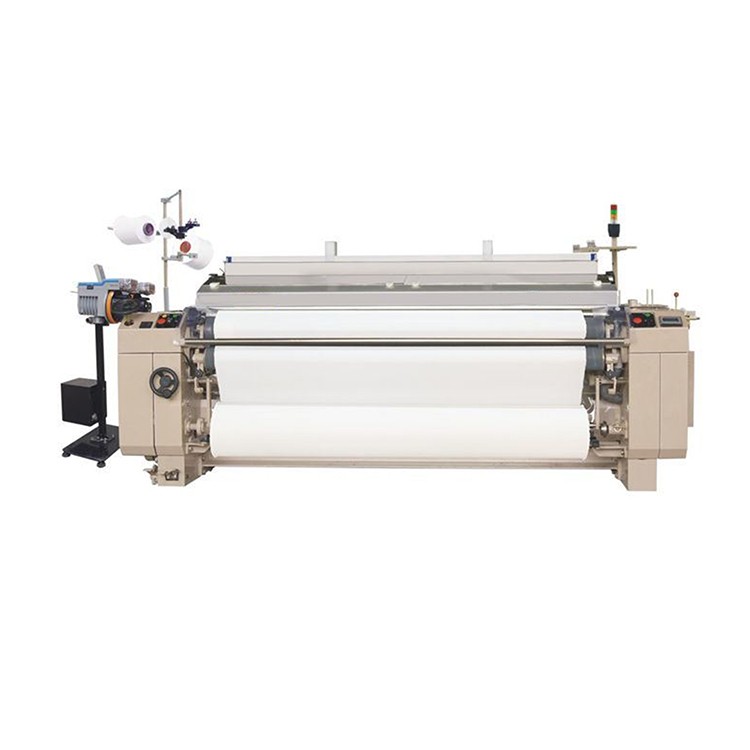 JWYC852 JWYC852 is specially designed for twill and satin fabric,which have high-speed,high efficiency and steady operation.Thus it performs very well in weaving twill and satin fabric.
The optional mechanical weft-storage,1-nozzle,2-nozzle&3-nozzle electronic weft-storage,Cam shedding device Dobby shedding device can be mounted on this type of looms,product has a wide workable range from various thin to thick fabrics.
| | | | |
| --- | --- | --- | --- |
| | | | |
| Speed | 800-1200 RPM | | |
| Weft density | 5~60 picks/cm | | |
| Reed width | 170, 190, 210, 230, 260, 280, 320cm | | |
| Gears in box | Applied with DATONG(Taiwan) gears, it has the advantages of super silent, wear-resisting, low vibration, oil not easily turning black etc. | | |
| Take-up device | High strength model (Mechanical ) | | |
| Shedding device | Plain shedding/cam shedding/dobby shedding for New condition mesin water jet loom with latest technology | | |
| Pump spring | Single pump(JL brand/ Jiarui brand) Double pumps+3/4 feeders is also workable on New condition mesin water jet loom with latest technology | | |
| Plunger | Fine ceramic material (Shutai brand) | | |
| Pump spring | Taiwan or AWA JAPAN | | |
| One way valve | Korea or AWA JAPAN | | |
| Nozzle | MDH Korea or AWA JAPAN | | |
| Electric control box | XINLIAO brand | | |
| Motor | Guofang brand(for exporting), 2% electricity saving | | |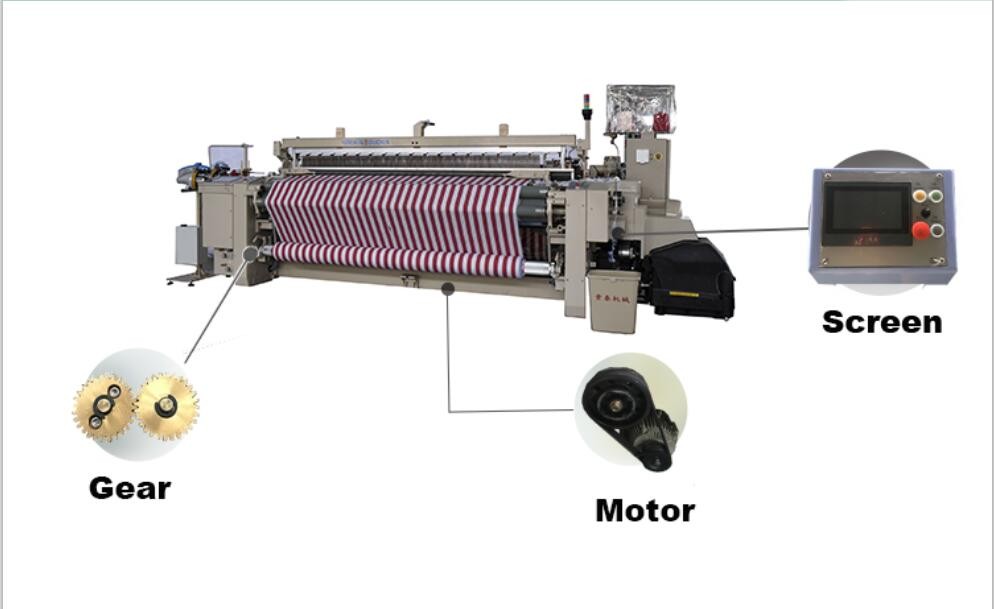 Advantages
1) High speed,heavy duty and great stability. 2)Significantly reduce the rate of failure and significantly reduce manufacturing costs. 3) Quite suitable for weaving of heavy and high density fabric.
Main features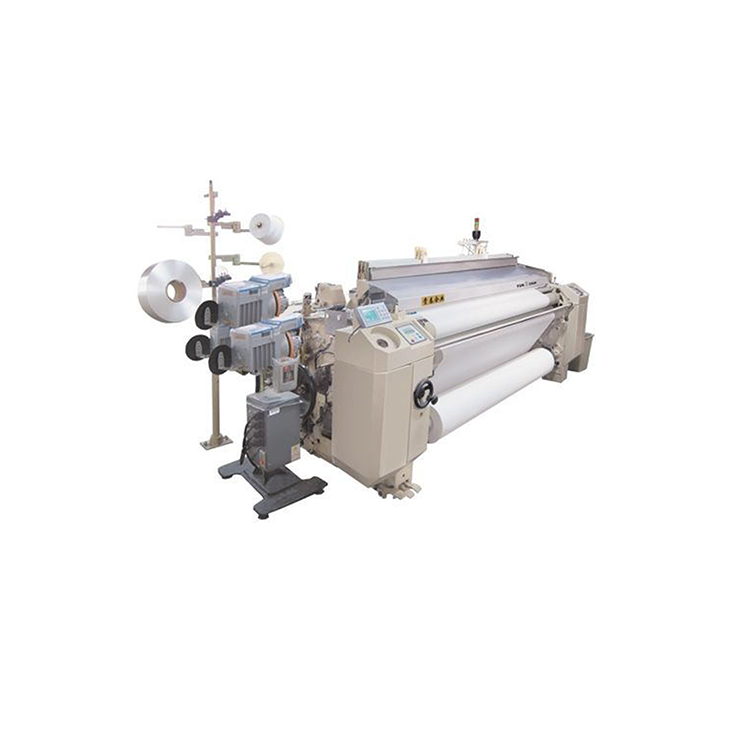 Main features The water jet loom belongs to a jet loom, which uses water as a weft insertion medium, and generates a frictional traction force on the weft yarn by spraying the water flow, so that the weft yarn on the fixed bobbin is introduced into the shed. Due to the good concentration of water flow, there is no water-proof flow diffusion device on the water jet loom, even if it can reach more than two meters.
Main features The water jet loom has a good water flow bundling property, and the frictional traction of the water on the weft yarn is also large, so that the weft yarn flying speed and the loom speed of the water jet loom are the first in various types of loom. It is more suitable for weaving of hydrophobic fiber yarns such as synthetic fibers and glass fibers, so there are limitations in the variety. Typical devices include: jet pumps, water droplet sealing and recovery devices, fabric dewatering and drying devices, and the like.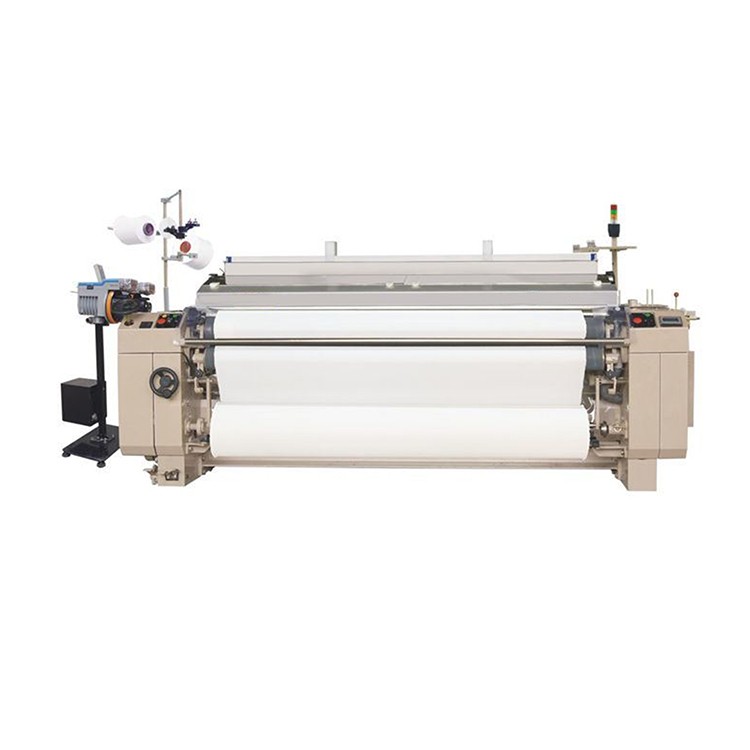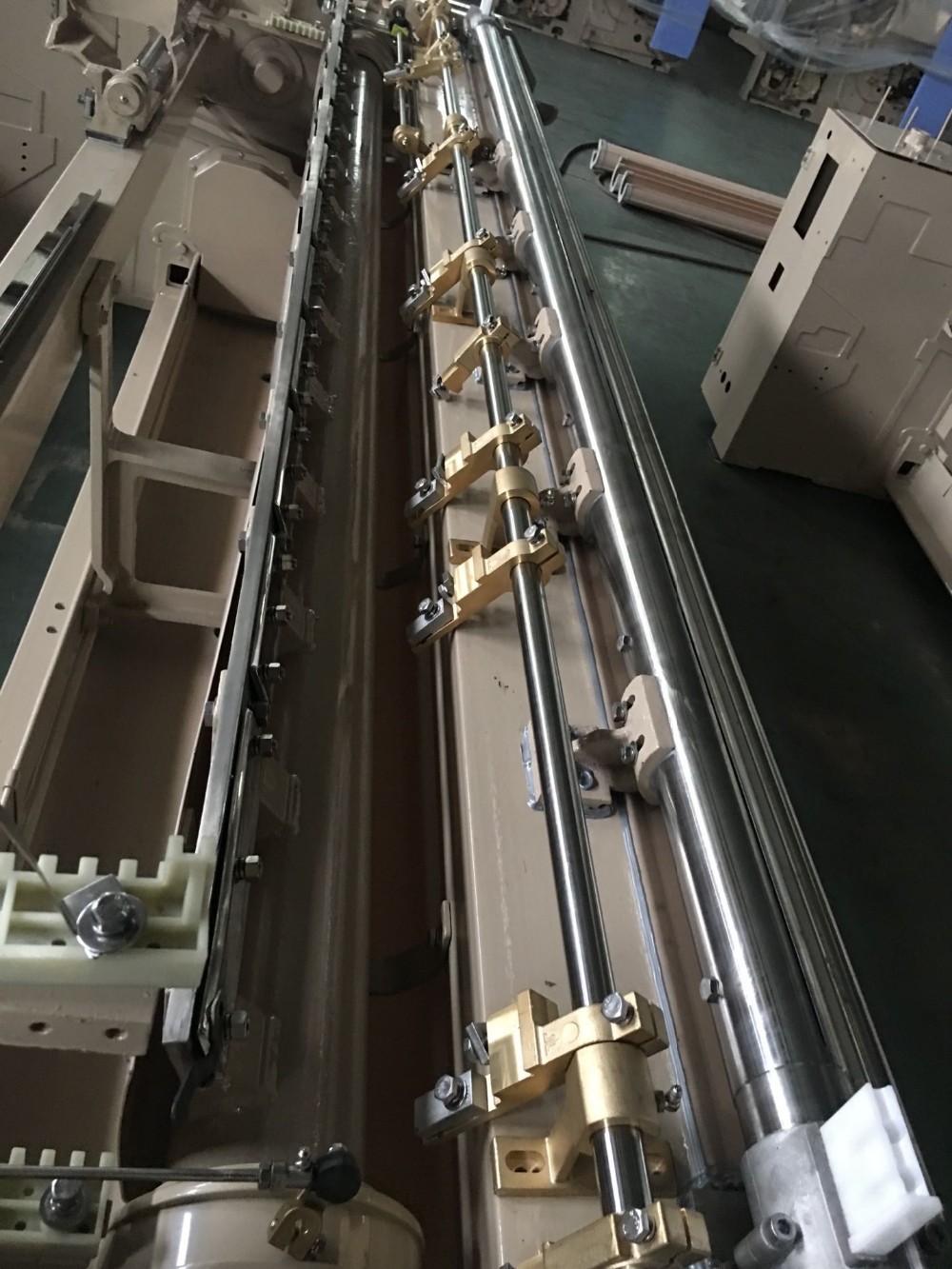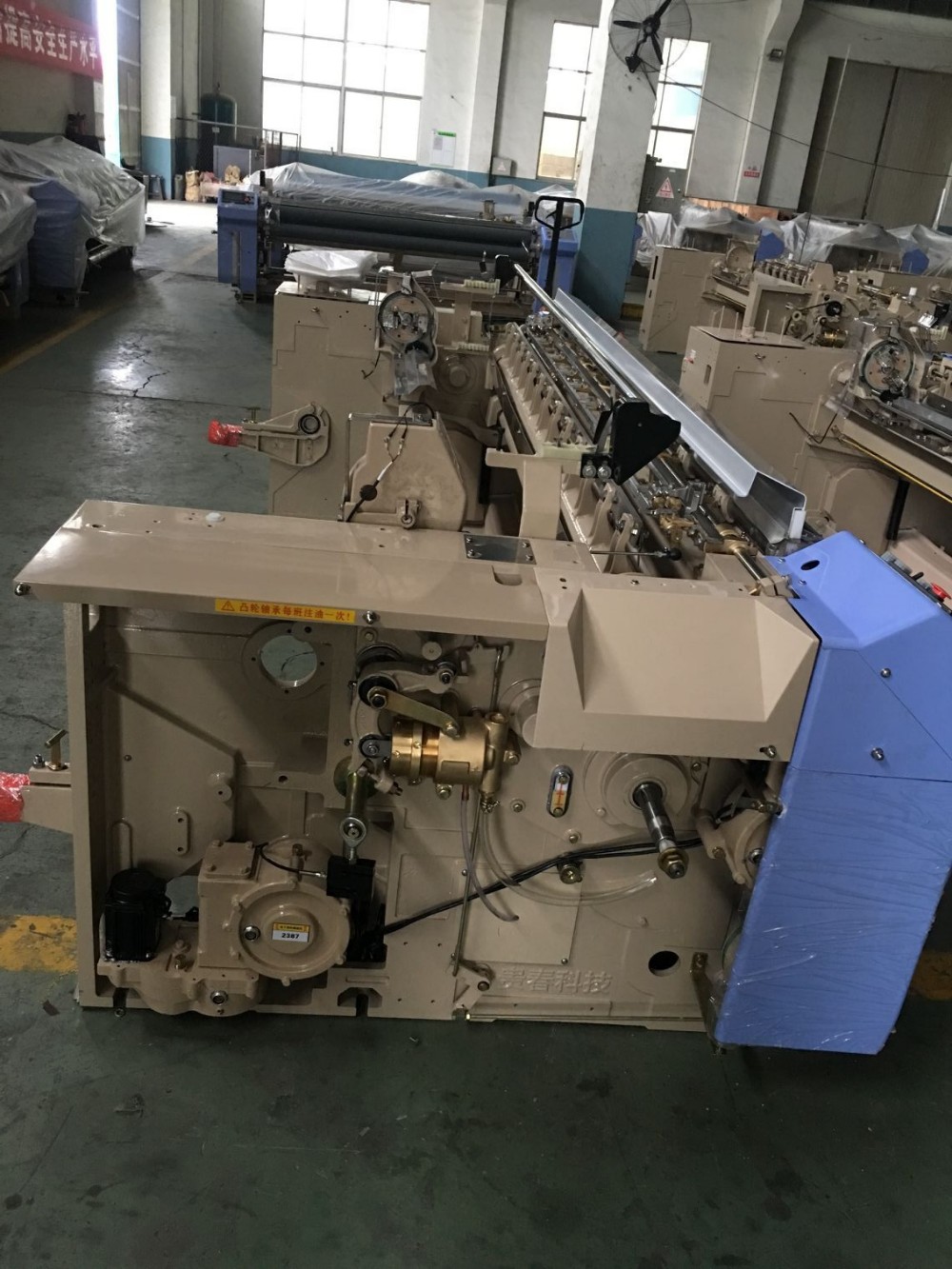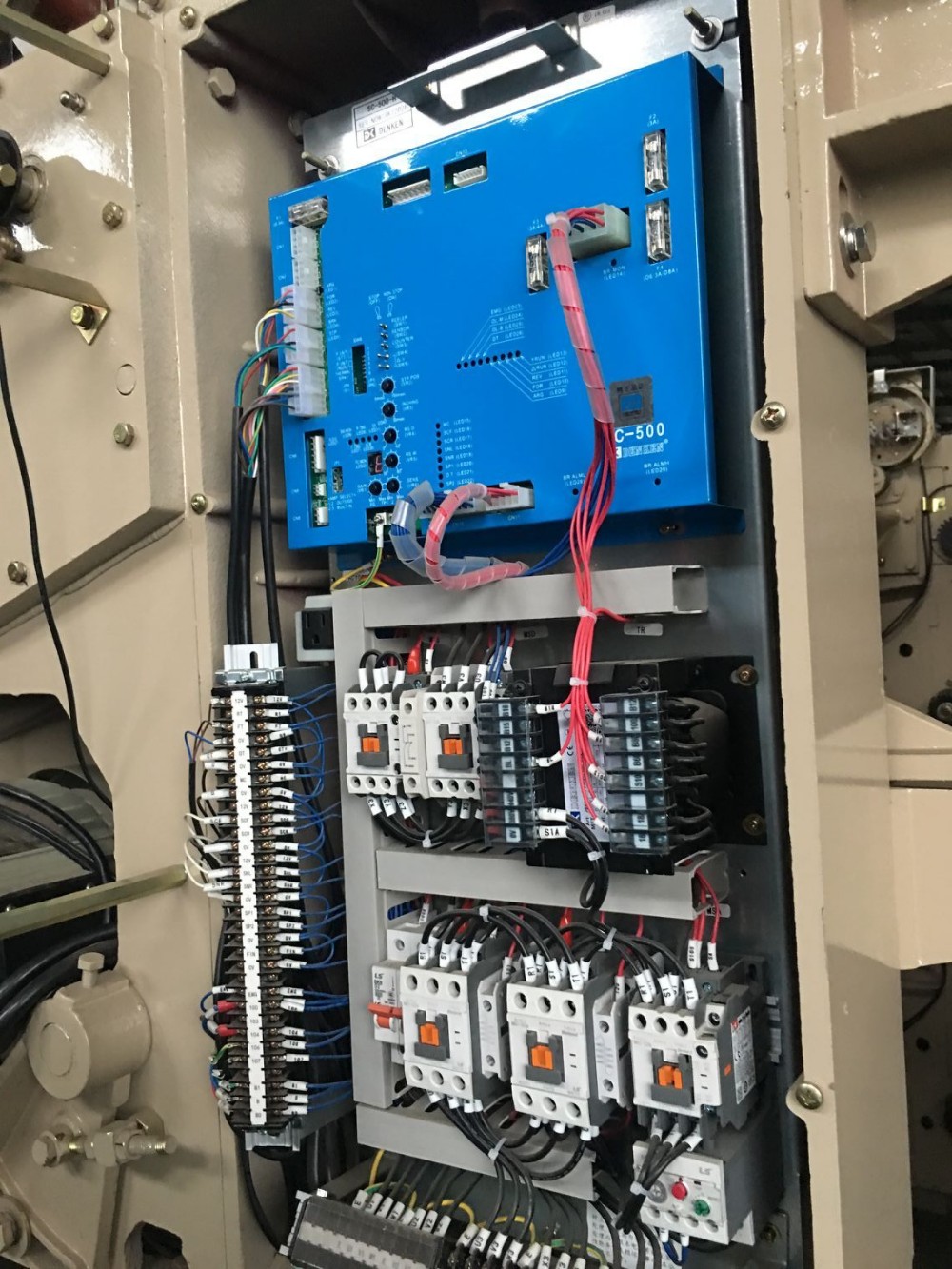 Application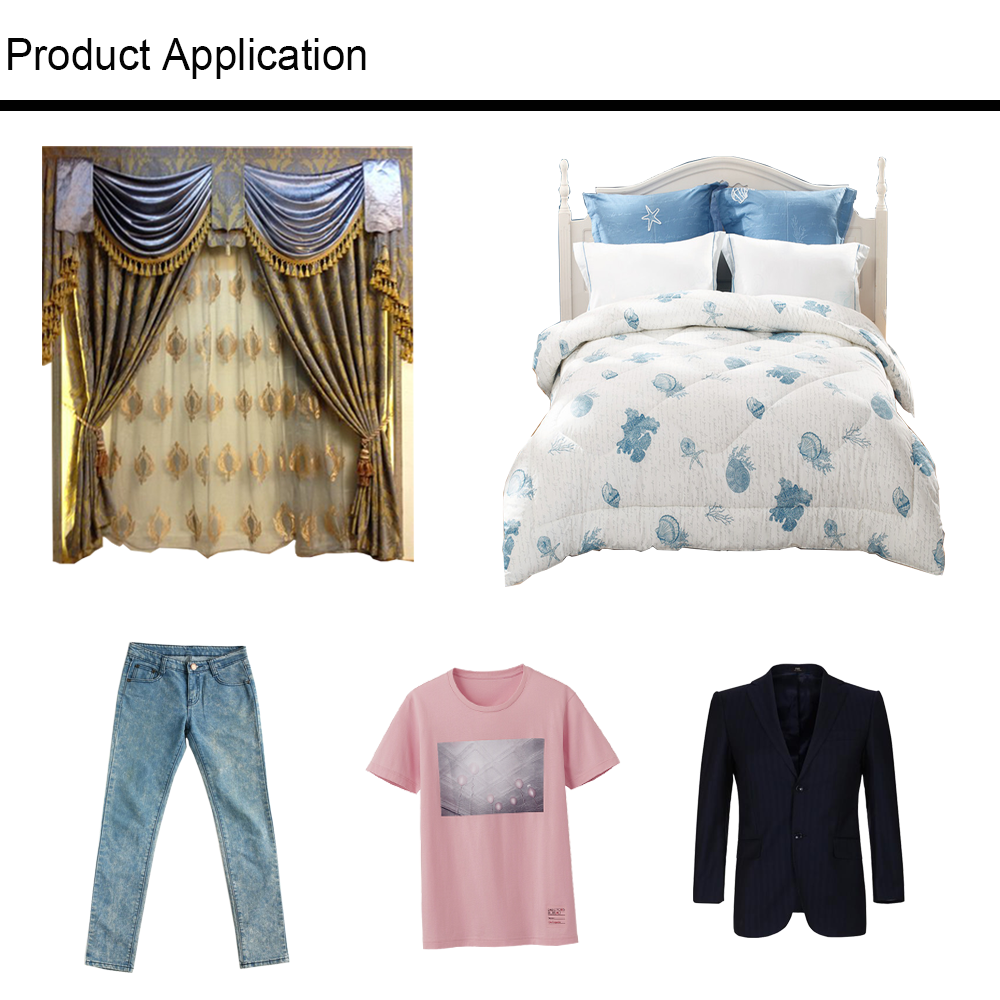 Our Service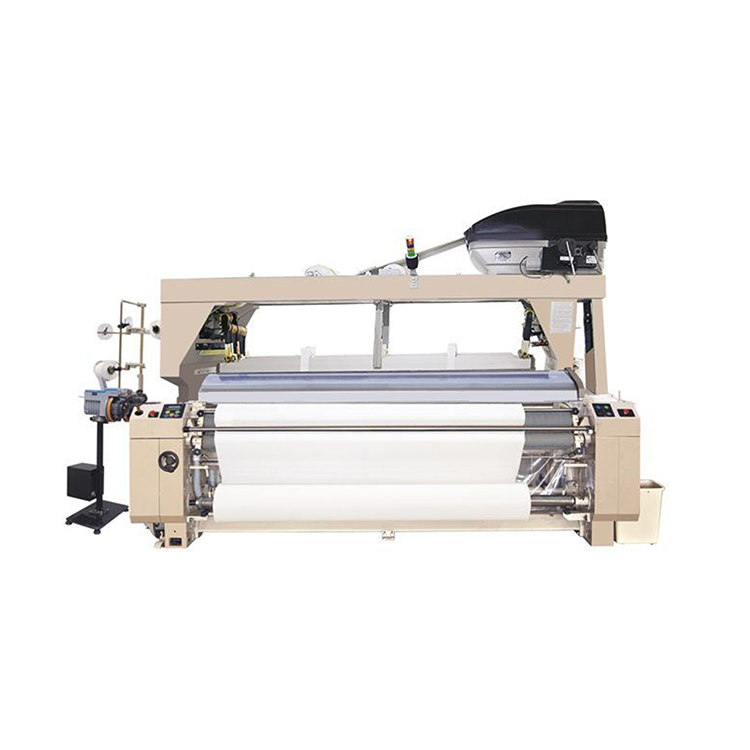 Pre-Sales Service * Inquiry and consulting support.  * View our Factory.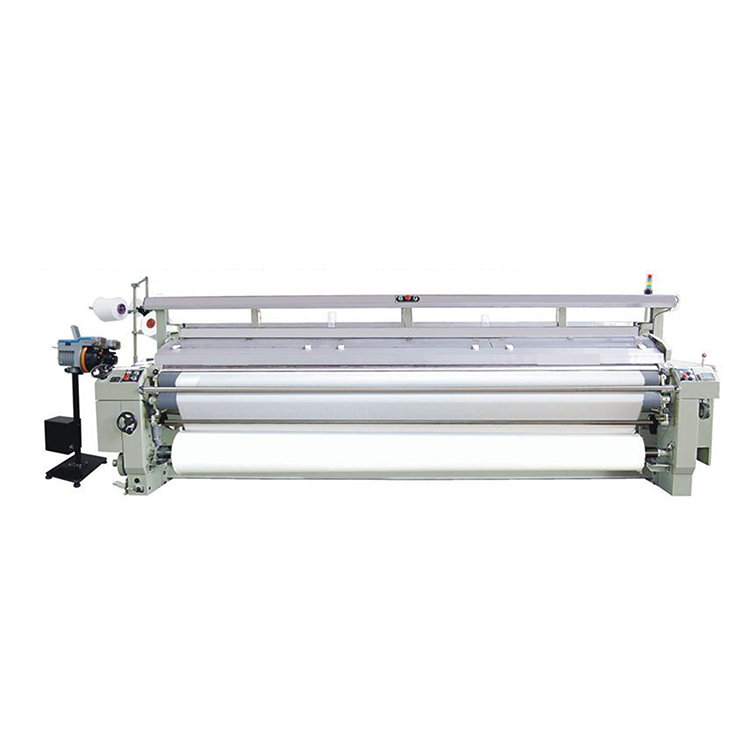 After-Sales Service
* 1 year warranty.
* Engineers available to service machinery overseas. Packing & Delivery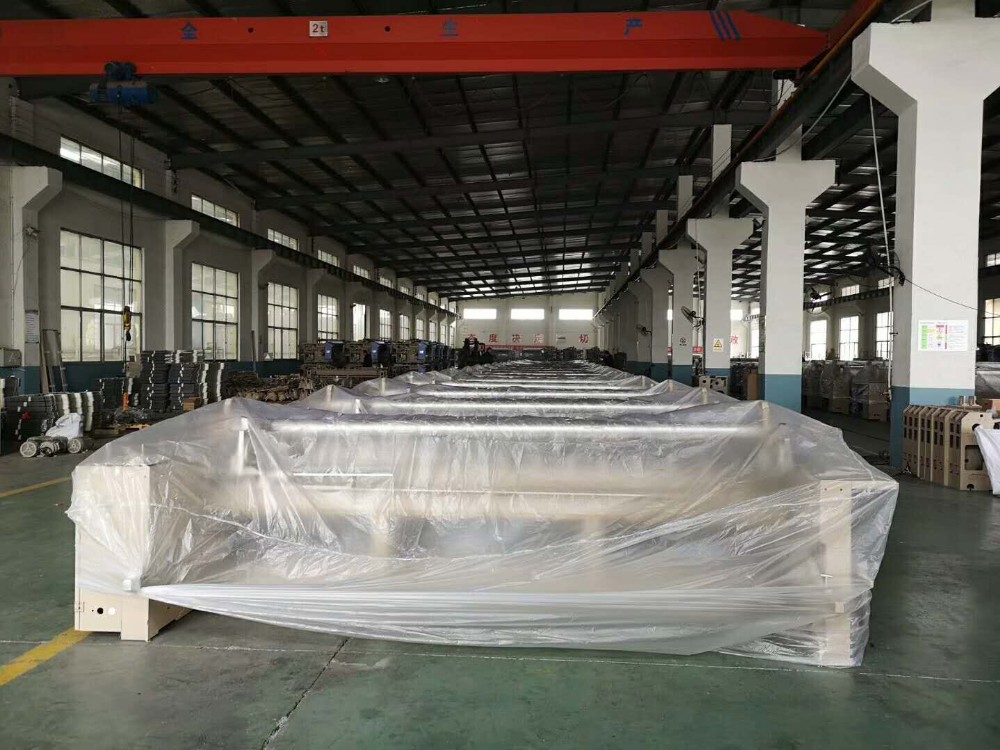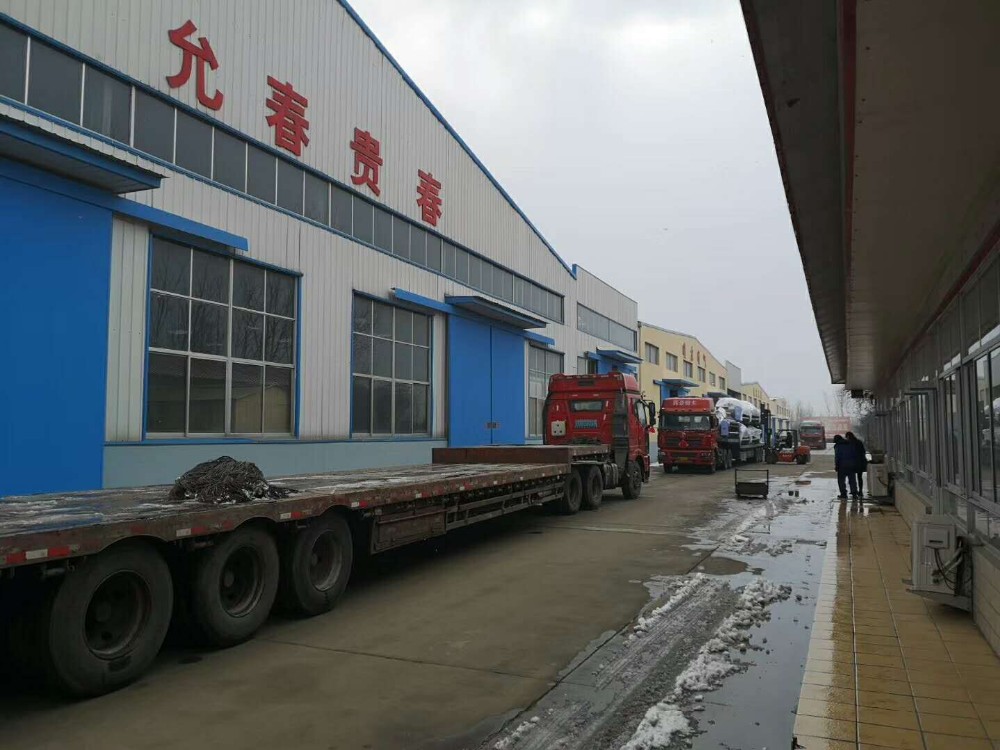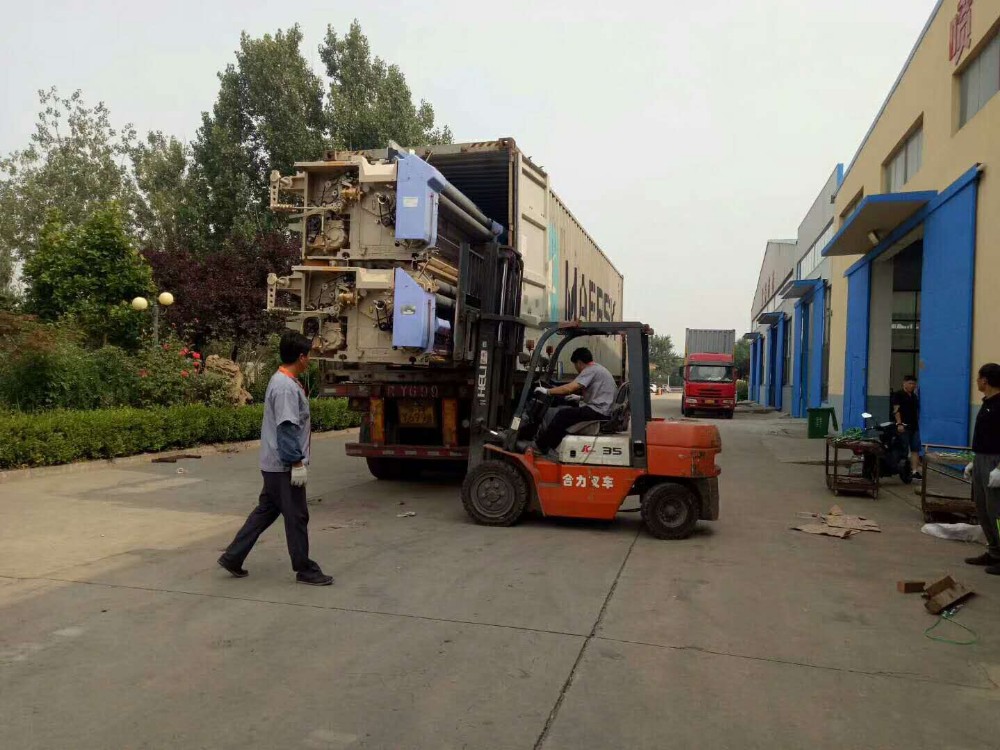 About us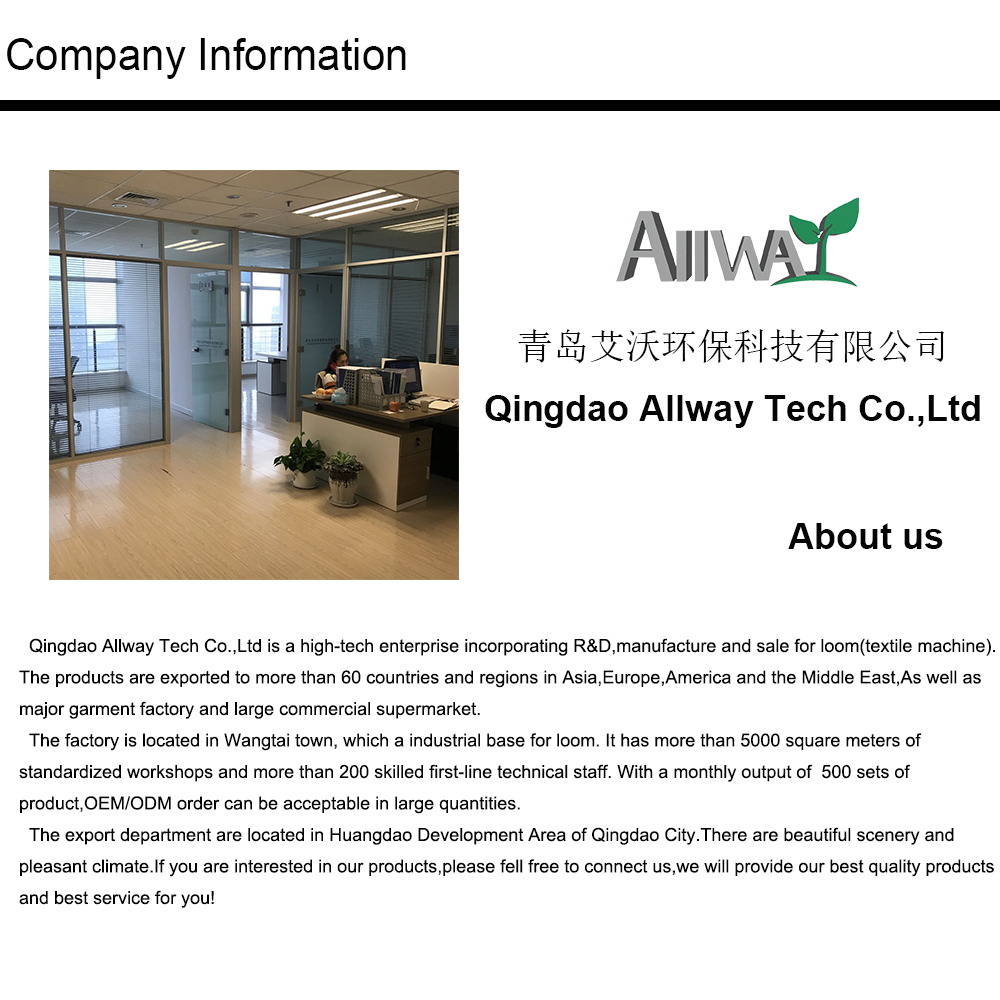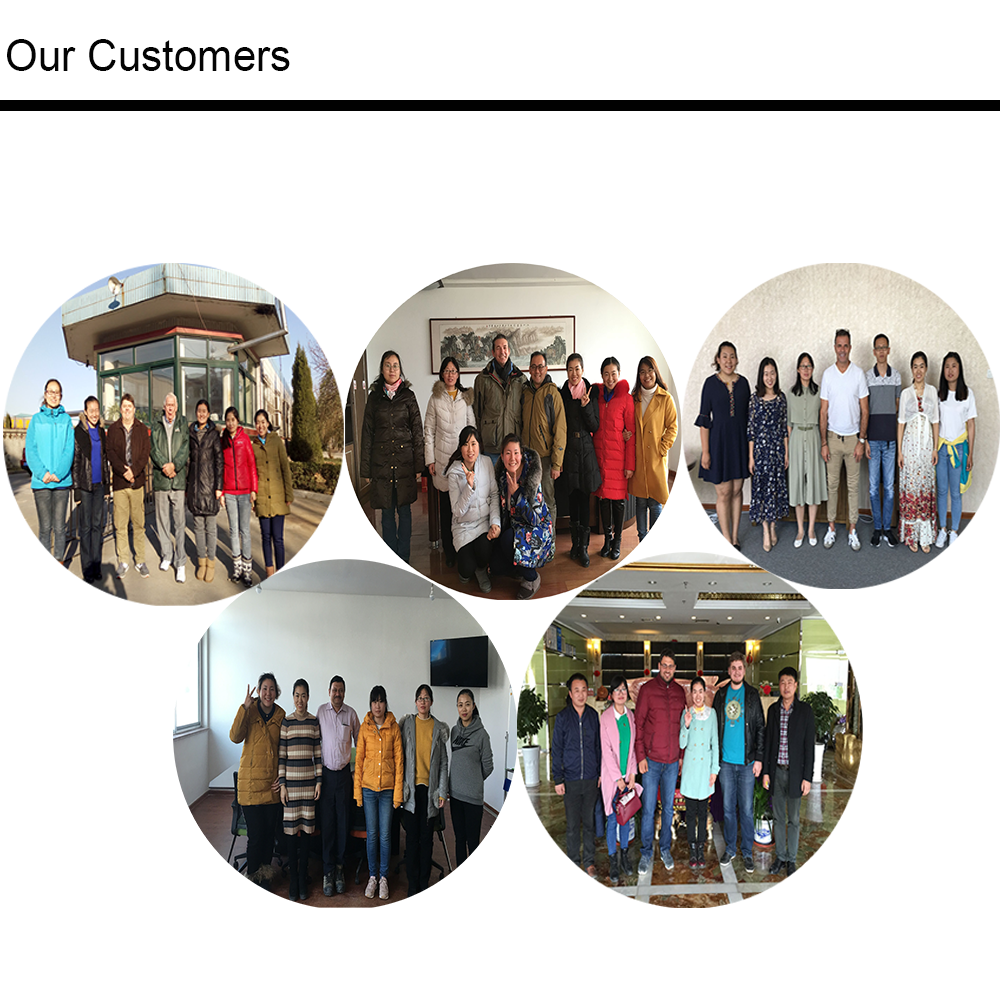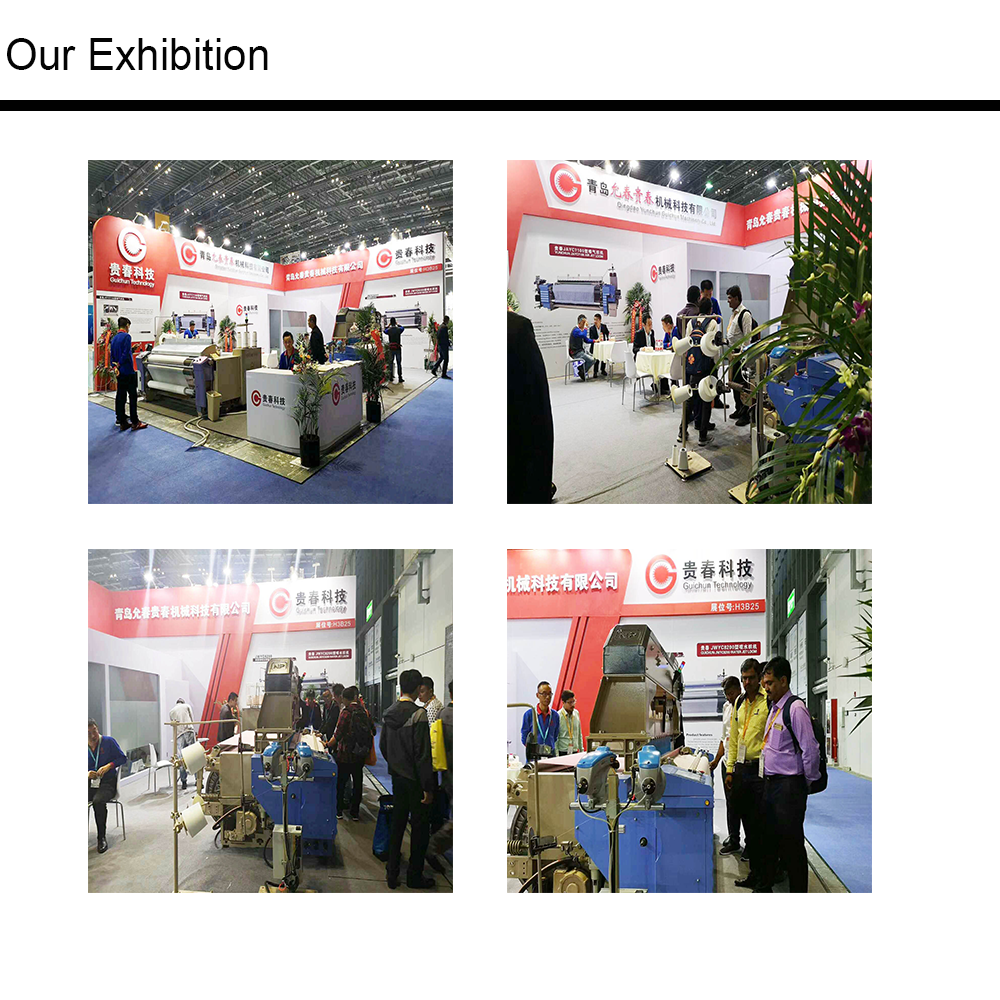 Our factory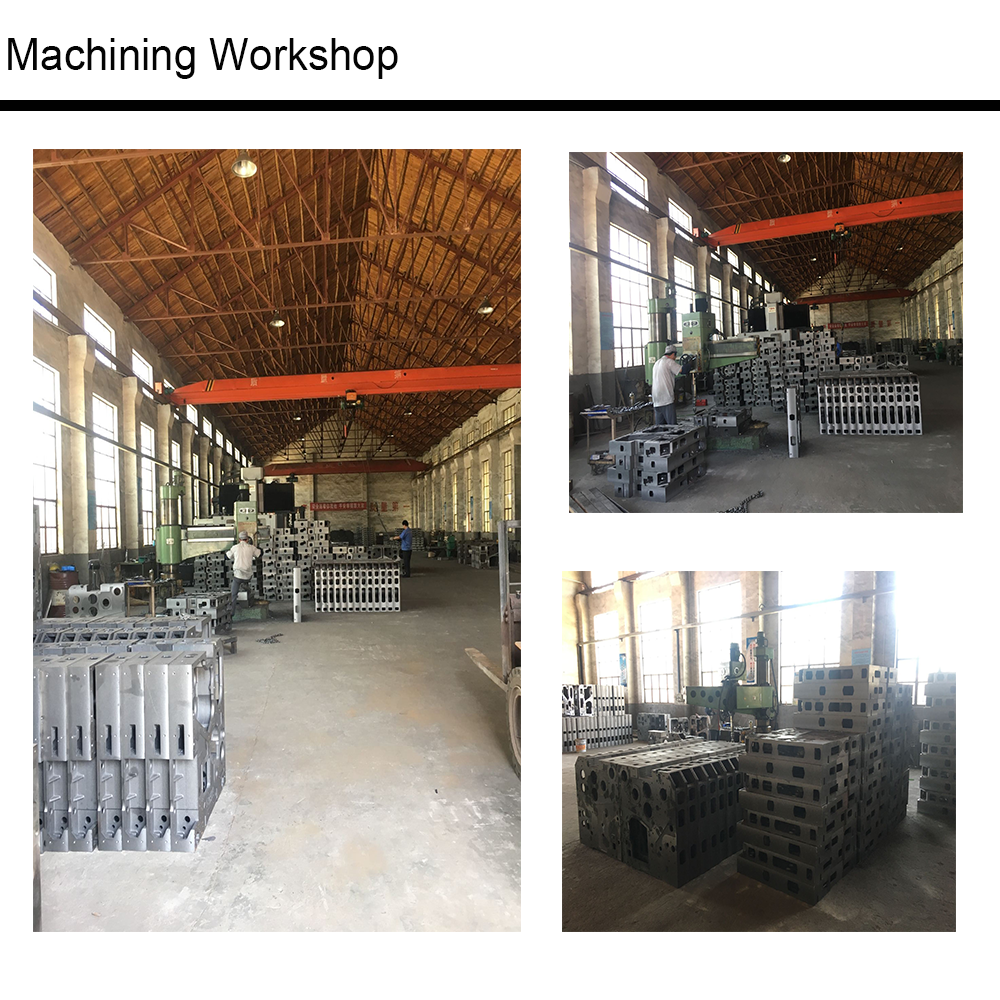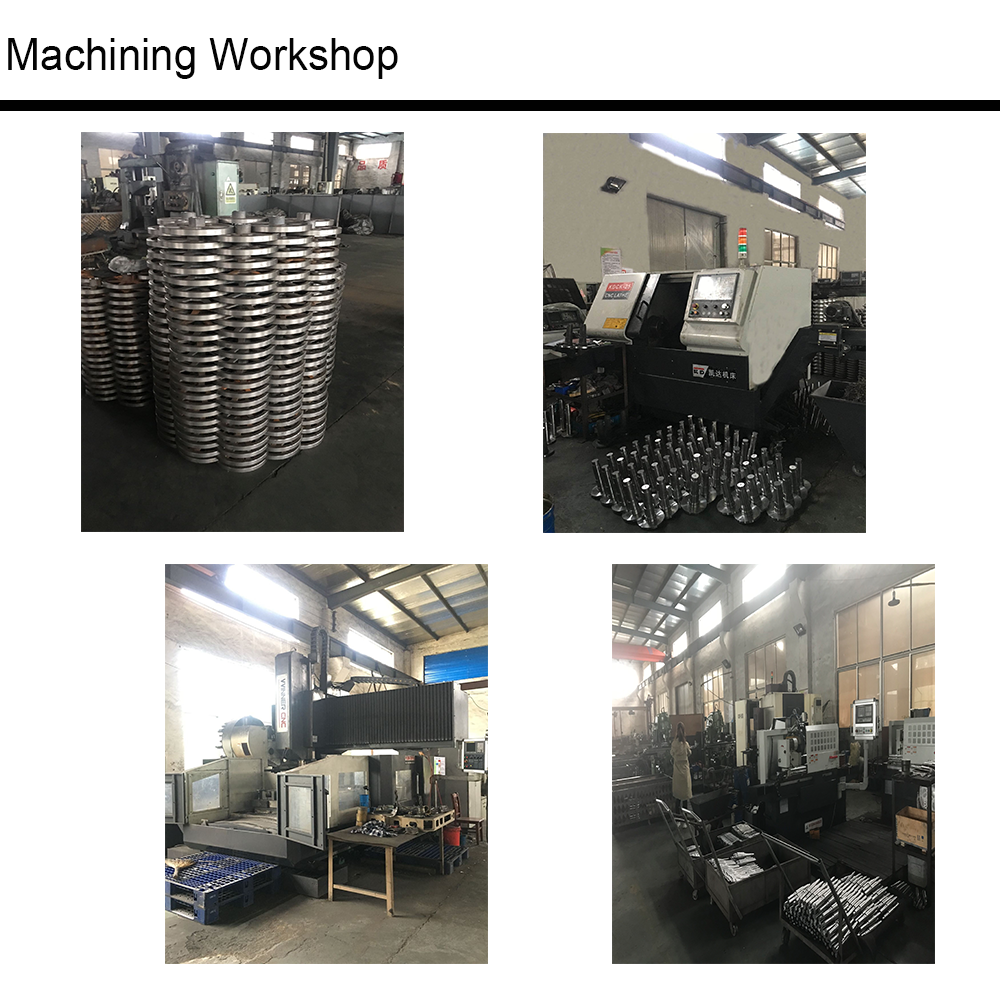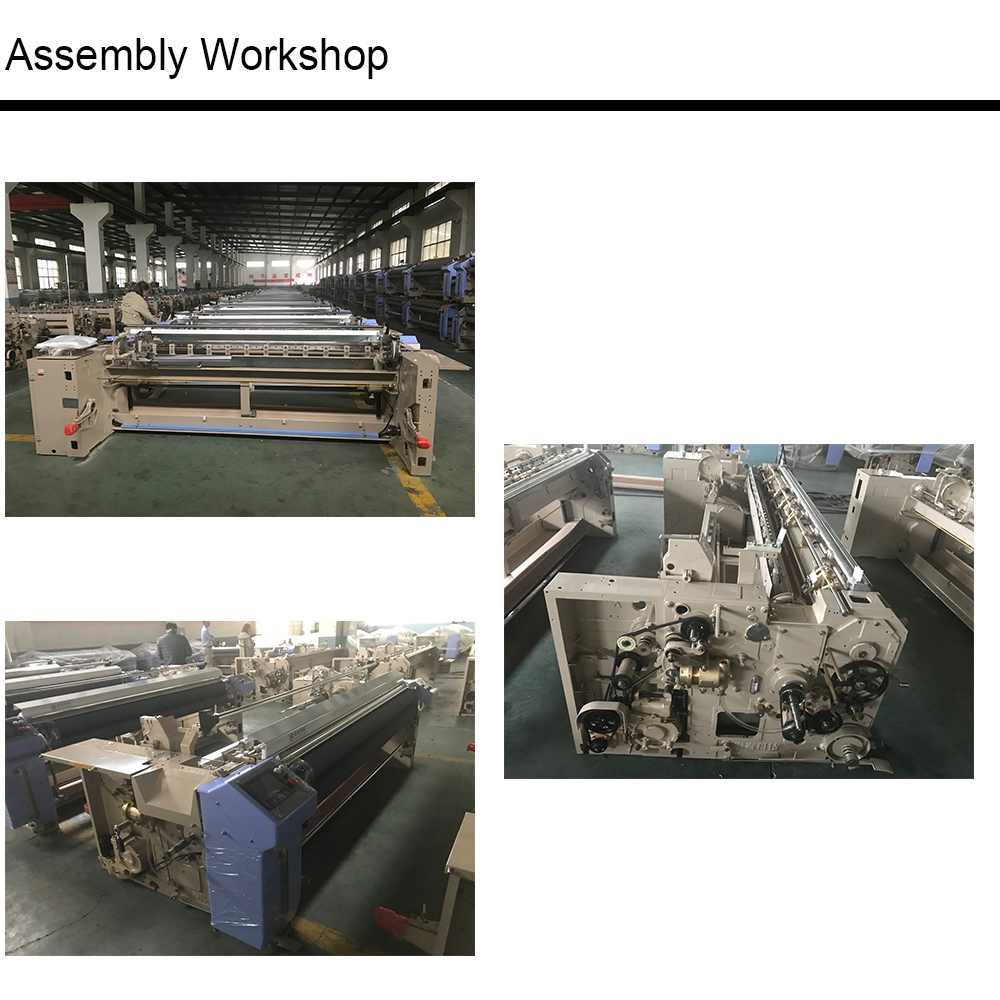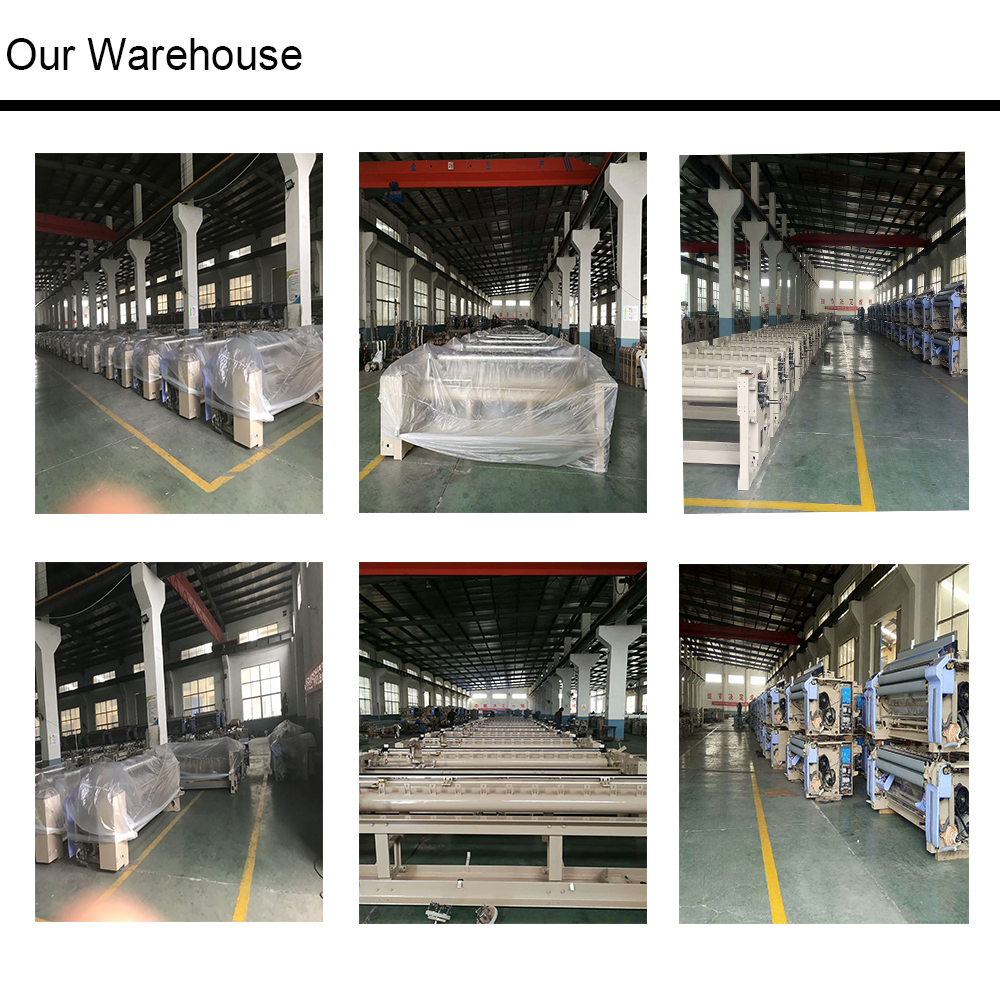 Related Products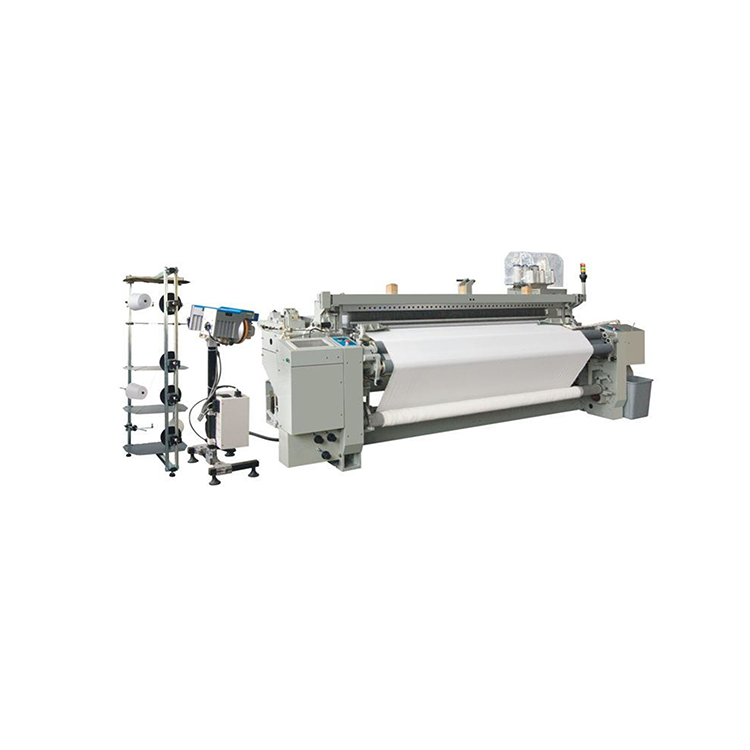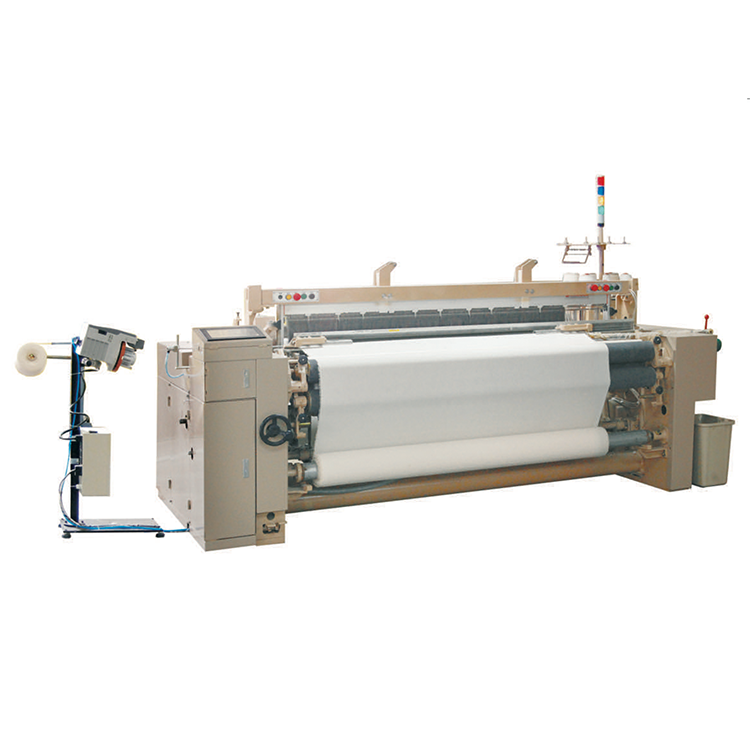 Contact us if you need more details on heddle loom. We are ready to answer your questions on packaging, logistics, certification or any other aspects about high speed needle loom、high speed power loom. If these products fail to match your need, please contact us and we would like to provide relevant information.
Product Categories : Water Jet Loom