Full automatic 1.5 beam and cloth roll weaving machine
Full automatic 1.5 beam and cloth roll weaving machine
Product Description
#detail_decorate_root .magic-0{border-bottom-width:2px;border-bottom-style:solid;border-bottom-color:#53647a;background-color:#c5ccde;margin-left:0;margin-right:0;padding-left:8px;padding-right:8px;color:#53647a;font-family:Roboto;font-size:24px;padding-top:8px;padding-bottom:4px}#detail_decorate_root .magic-1{width:750px}#detail_decorate_root .magic-2{overflow:hidden;width:750px;height:750px;margin-top:0;margin-bottom:0;margin-left:0;margin-right:0}#detail_decorate_root .magic-3{margin-top:0;margin-left:0;width:750px;height:750px}#detail_decorate_root .magic-4{vertical-align:top}#detail_decorate_root .magic-5{padding:0;margin:0;color:#333;font-size:14px;white-space:pre-wrap}#detail_decorate_root .magic-6{padding:0;font-size:16px;line-height:20px;font-weight:bold;color:#333;margin:0}#detail_decorate_root .magic-7{vertical-align:top;display:block;padding-right:4px;box-sizing:border-box;padding-left:4px}#detail_decorate_root .magic-8{vertical-align:top;padding-bottom:4px;box-sizing:border-box;padding-top:4px}#detail_decorate_root .magic-9{padding:0;margin:0;white-space:pre-wrap;font-size:14px}#detail_decorate_root .magic-10{margin:0;padding:0}#detail_decorate_root .magic-11{width:750px;border-collapse:collapse}#detail_decorate_root .magic-12{padding:5px 10px;overflow:hidden;width:206px;box-sizing:content-box}#detail_decorate_root .magic-13{padding:5px 10px;overflow:hidden;width:497px;box-sizing:content-box}#detail_decorate_root .magic-14{border-bottom-width:2px;border-bottom-style:solid;border-bottom-color:#53647a;background-color:#c5ccde;margin-left:0;margin-right:0;padding-left:8px;padding-right:8px;color:#53647a;font-family:Roboto;font-size:24px;font-style:normal;padding-top:8px;padding-bottom:4px}#detail_decorate_root .magic-15{vertical-align:top;display:inline-block;padding-right:4px;width:50%;box-sizing:border-box;margin-bottom:-4px;padding-left:0;margin-top:-4px}#detail_decorate_root .magic-16{width:371px;height:335px;overflow:hidden}#detail_decorate_root .magic-17{position:relative;left:0;top:0;width:371px;height:371px}#detail_decorate_root .magic-18{vertical-align:top;display:inline-block;padding-right:4px;width:50%;box-sizing:border-box;margin-bottom:-4px;padding-left:0;margin-top:-4px;margin-left:-3px}#detail_decorate_root .magic-19{width:364px;border-collapse:collapse}#detail_decorate_root .magic-20{min-height:18px;padding:5px 10px;width:253px;min-height:18px;box-sizing:content-box}#detail_decorate_root .magic-21{font-size:24px}#detail_decorate_root .magic-22{padding:0;margin:0;color:#333;font-size:14px;padding-left:4px;font-weight:bold;white-space:pre-wrap}#detail_decorate_root .magic-23{vertical-align:top;display:inline-block;padding-right:4px;width:50%;box-sizing:border-box;margin-bottom:-4px;padding-left:4px;margin-top:-4px}#detail_decorate_root .magic-24{vertical-align:top;box-sizing:border-box;padding-top:4px}#detail_decorate_root .magic-25{width:371px;height:371px;overflow:hidden}#detail_decorate_root .magic-26{padding:0;margin:0;color:#333;font-size:16px;line-height:20px;font-weight:bold;white-space:pre-wrap}#detail_decorate_root .magic-27{padding:0;margin:0;white-space:pre-wrap;font-size:16px}#detail_decorate_root .magic-28{vertical-align:top;display:inline-block;padding-right:4px;width:33.33%;box-sizing:border-box;margin-bottom:-4px;padding-left:4px;margin-top:-4px}#detail_decorate_root .magic-29{width:245px;height:245px;overflow:hidden}#detail_decorate_root .magic-30{position:relative;left:0;top:0;width:245px;height:245px}#detail_decorate_root .magic-31{box-sizing:content-box;margin:0;padding:0;border:0;font-variant-numeric:inherit;font-variant-east-asian:inherit;font-stretch:inherit;line-height:inherit;vertical-align:baseline;text-decoration-style:initial;text-decoration-color:initial}#detail_decorate_root .magic-33{width:446px}#detail_decorate_root .magic-34{overflow:hidden;width:446px;height:266px;margin-top:0;margin-bottom:0;margin-left:0;margin-right:0}#detail_decorate_root .magic-35{margin-top:12px;margin-left:0;width:431px;height:431px}#detail_decorate_root .magic-36{width:300px;display:flex;flex-direction:column;margin-right:0;margin-left:4px} Product Description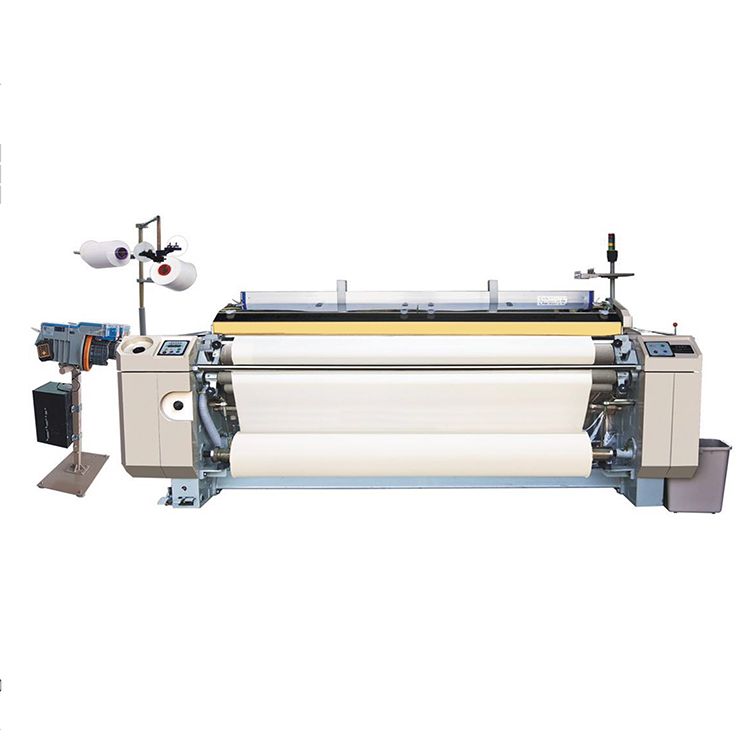 JWYC 852
Water Jet Loom
 JWYC852 is specially designed for twil and satin fabric,which have high-speed,high efficiency and steady operation.Thus it performs very well in weaving twil and satin fabric.
The optional mechanical weft-storage,1-nozzle,2-nozzle&3-nozzle electronic weft-storage,Cam shedding device Dobby shedding device can be mounted on this type of looms,product has a wide workable range from varous thin to thick fabrics.
| | |
| --- | --- |
| Speed | 800-1200 RPM |
| Heddle Frames | Plain shedding 2~8 pieces, Cam shedding 4~12 pieces, Dobby shedding 16 pieces |
| Motor | 2.2kw, 2.6kw, 2.8kw, 3.0kw, 3.5kw, 4.0kw, 4.5kw |
| Weft density | 5~60 picks/cm |
| Reed width | 140, 150, 170, 190, 210, 230, 260, 280, 320, 340, 360cm |
| Middle wall | 4cm thickness, heavier and stronger. Main wall 450 for New condition mesin water jet loom with latest technology |
| Gears in box | Applied with DATONG(Taiwan) gears, it has the advantages of super silent, wear-resisting, low vibration, oil not easily turning black etc. |
| Bearings in gear box | NSK JAPAN inside the gear box; HRB brand outside the gear box on New condition mesin water jet loom with latest technology |
| Zero~Max | Shimpo Japan |
| Take-up device | High strength model (Mechanical ) |
| Shedding device | Plain shedding/cam shedding/dobby shedding for New condition mesin water jet loom with latest technology |
| Hearld frames | MING brand, strengthen design, 6~16 frames Specially designed from Niupai for A-TUF ApprovedNew condition mesin water jet loom with latest technology |
| Pump spring | Single pump(JL brand/ Jiarui brand) Double pumps+3/4 feeders is also workable on New condition mesin water jet loom with latest technology |
| Plunger | Fine ceramic material (Shutai brand) |
| Pump spring | Taiwan or AWA JAPAN |
| One way valve | Korea or AWA JAPAN |
| Nozzle | MDH Korea or AWA JAPAN |
| Electric control box | XINLIAO brand |
| Motor | Guofang brand(for exporting), 2% electricity saving |
| Belt | Top quality belt, wear-resisting(For exporting, Mitsubishi) |
| Oil seal | CTY Germany |
| painting | Special painting line to keep good quality for rust resisting; It looks nice on the machine body of New condition mesin water jet loom with latest technology |
Weaving Material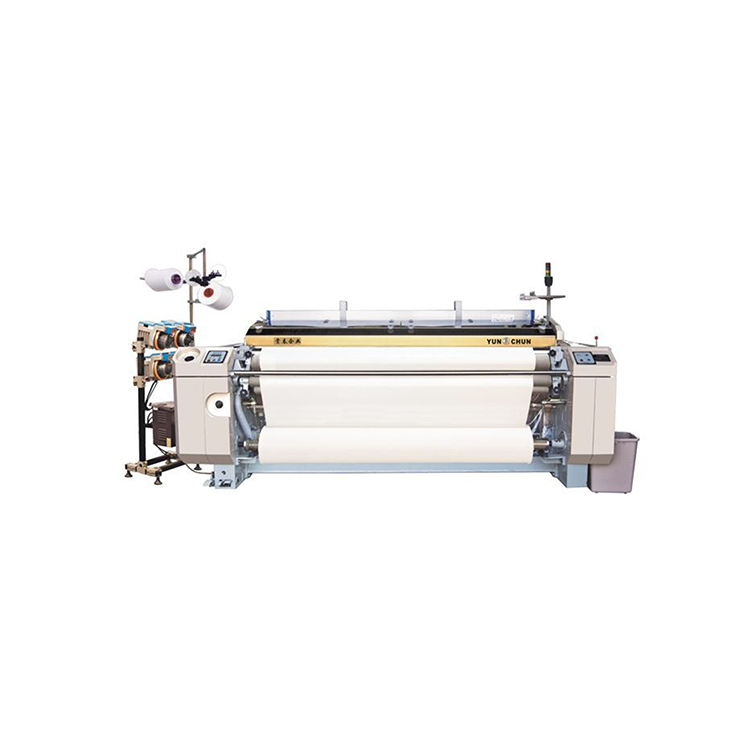 Weaving Material
(1)nylon filament
(2)nylon with wire-free pulp
(3)multi-resin raw silk
(4)Multiple lipid retractable wire
(5)Multiple lipid rayon
(6)multi-resin hard twist yarn
(7)Multiple lipid extension wire
(8)Multiple lipid-free pulp with silk
(9)elastic fiber yarn 
(10)lmitation silk cotton
Detailed Images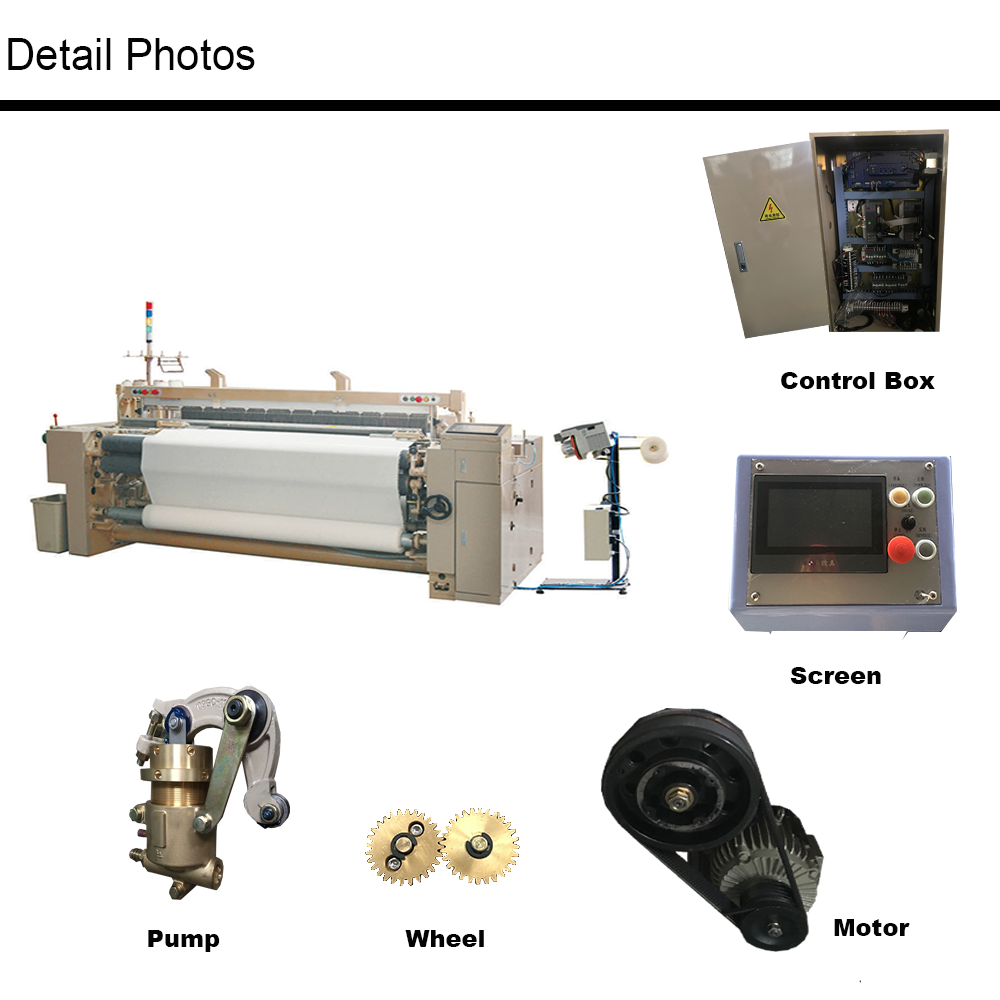 Main Features 1.High speed heavy duty 2.Anti-vibration, high stability 3.High efficiency,various application. 4.More sensitive to minor changes of tension5.Good after-sales service system   6.Best reputation in internet market
Our service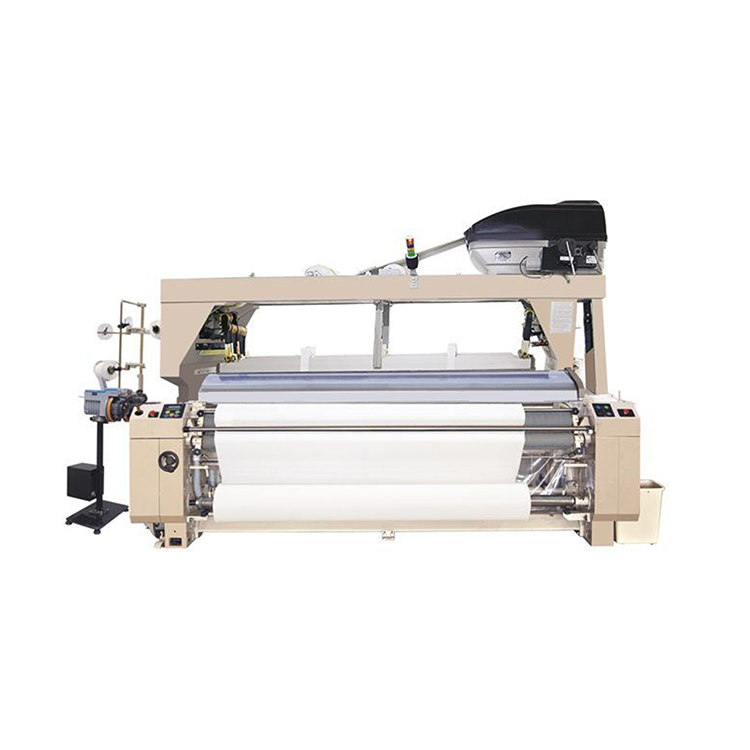 Pre-Sales Service * Inquiry and consulting support.  * View our Factory.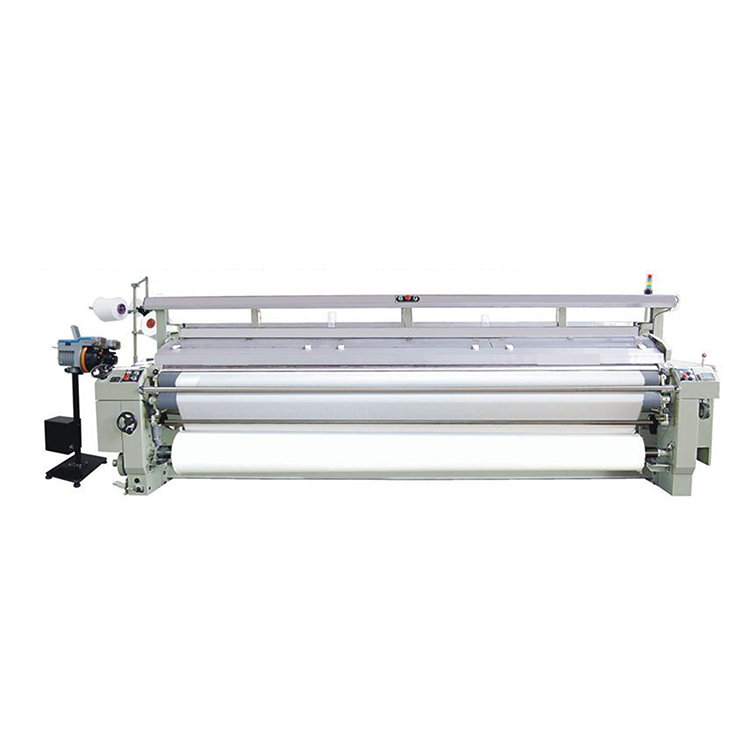 After-Sales Service * 1 year warranty . * Training how to instal the machine, training how to use the machine.  * Engineers available to service machinery overseas. Related Products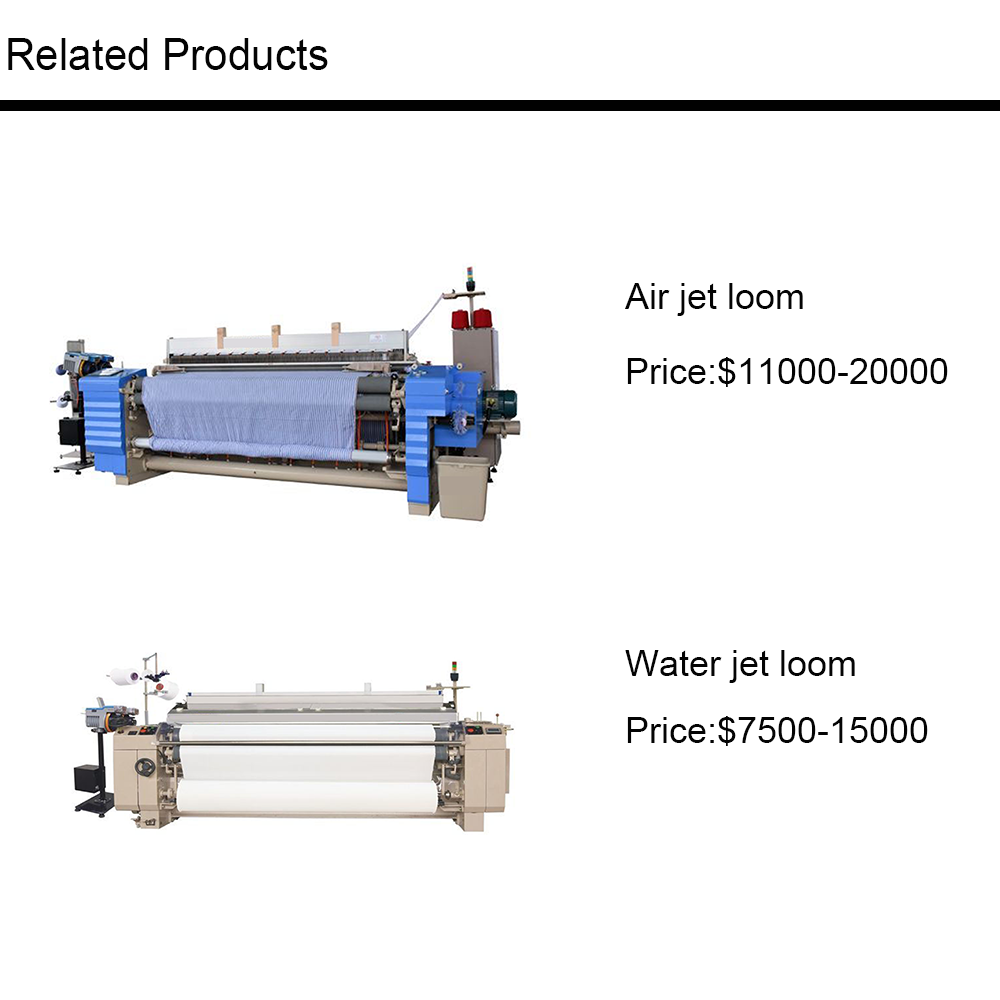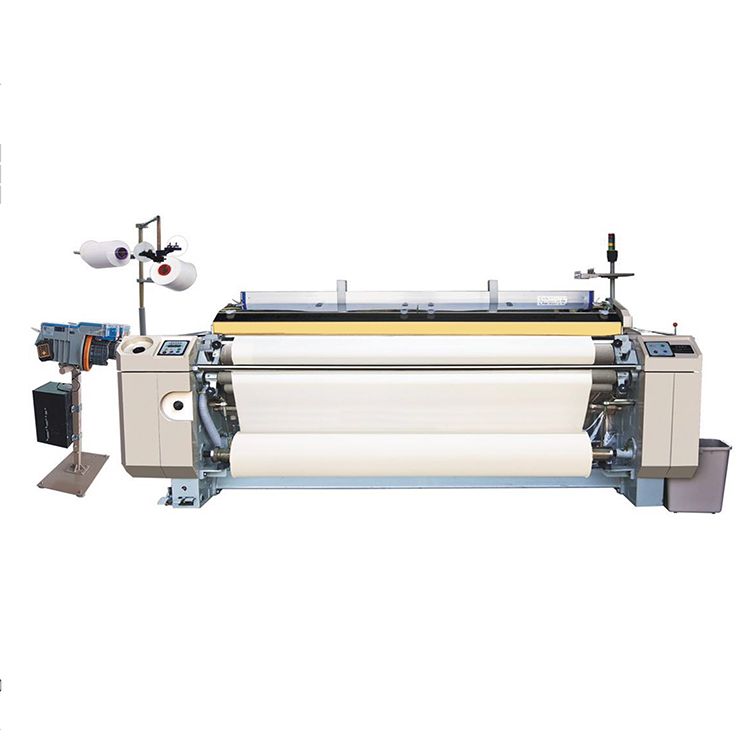 JWYC 408 HIGH SPEED MACHINE This machine is the professional development of new models, with outstanding stability and high speed in making high-density and thick fabric,Electronical feeder and Dobby shedding or Cam shedding can be installed on it.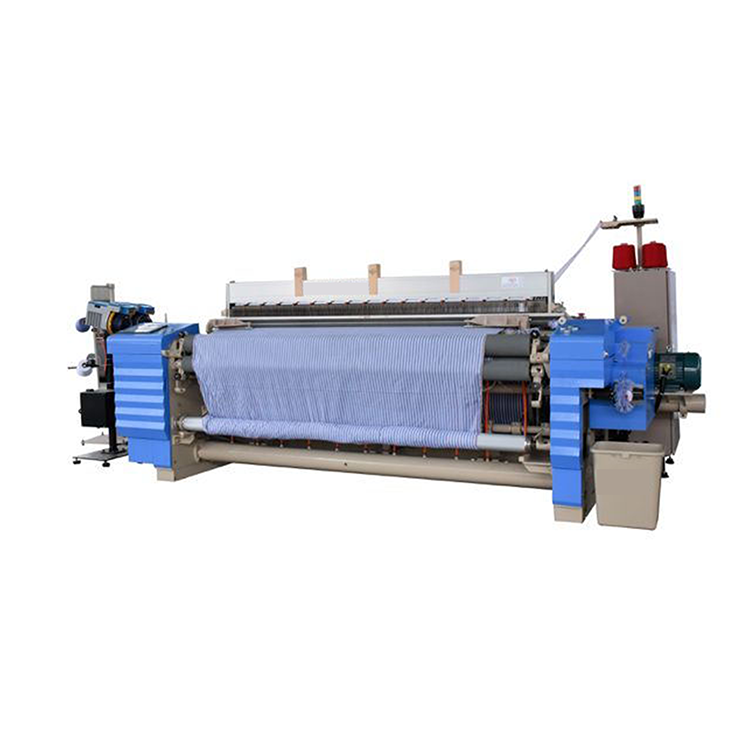 JAYC 7100  The JAYC high-speed air jet takes energy saving into complete and deep consideration. The eccentric rockshaft with the small inertia moment and the hollow steel reed are adopted, and the load in power oil bath is reduced, so that the performance of energy saving is exerted.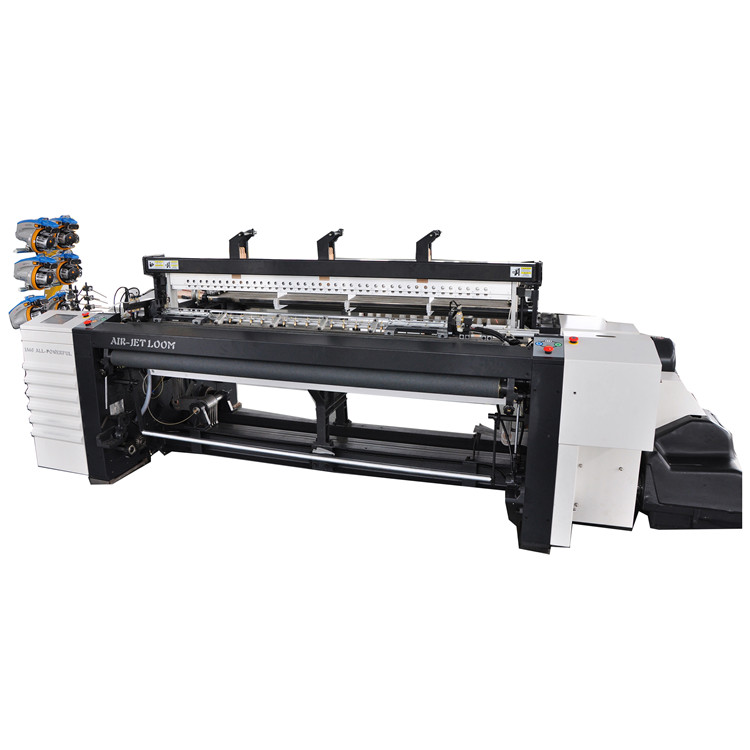 JC 60 Excellent super high speed performance and low vibration: High speed performance is the task of the
Air Jet Loom
. Through the complementary effects of the most reasonable weave geometry, the beating-up mechanism with high balance, the weft insertion system with the highest level in the word and the newly designed tough rack structure. Packing & Delivery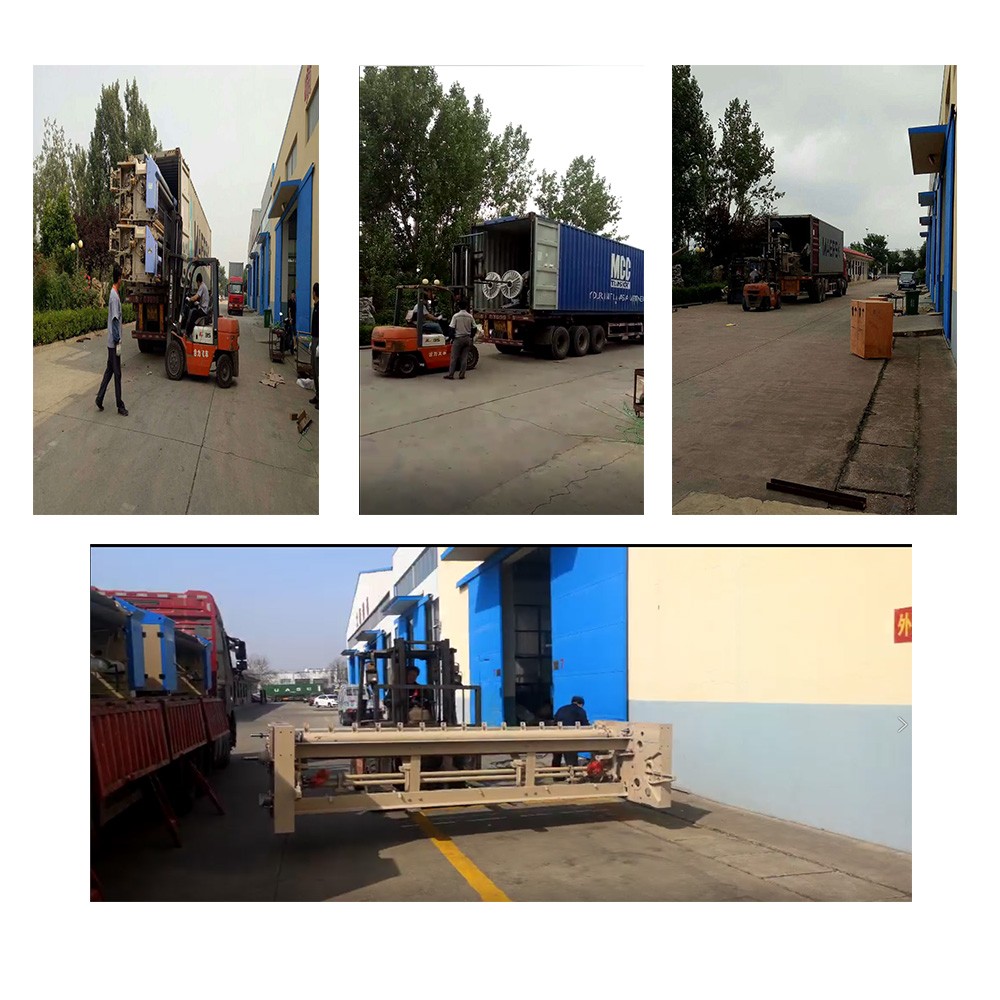 We will shippment our machine on time and packing by our professional worker.
there are our mainy carrier company MAERSK MSC EMC cosco. Our factory has passed ISO9001,ISO14001,ISO13485.The products must meet the technical standards of 3C and CE. All the products are certified by the Industy Administration Authority.We are enjoying an excellent repution in the world market with perfect products and low price. 
Our Factory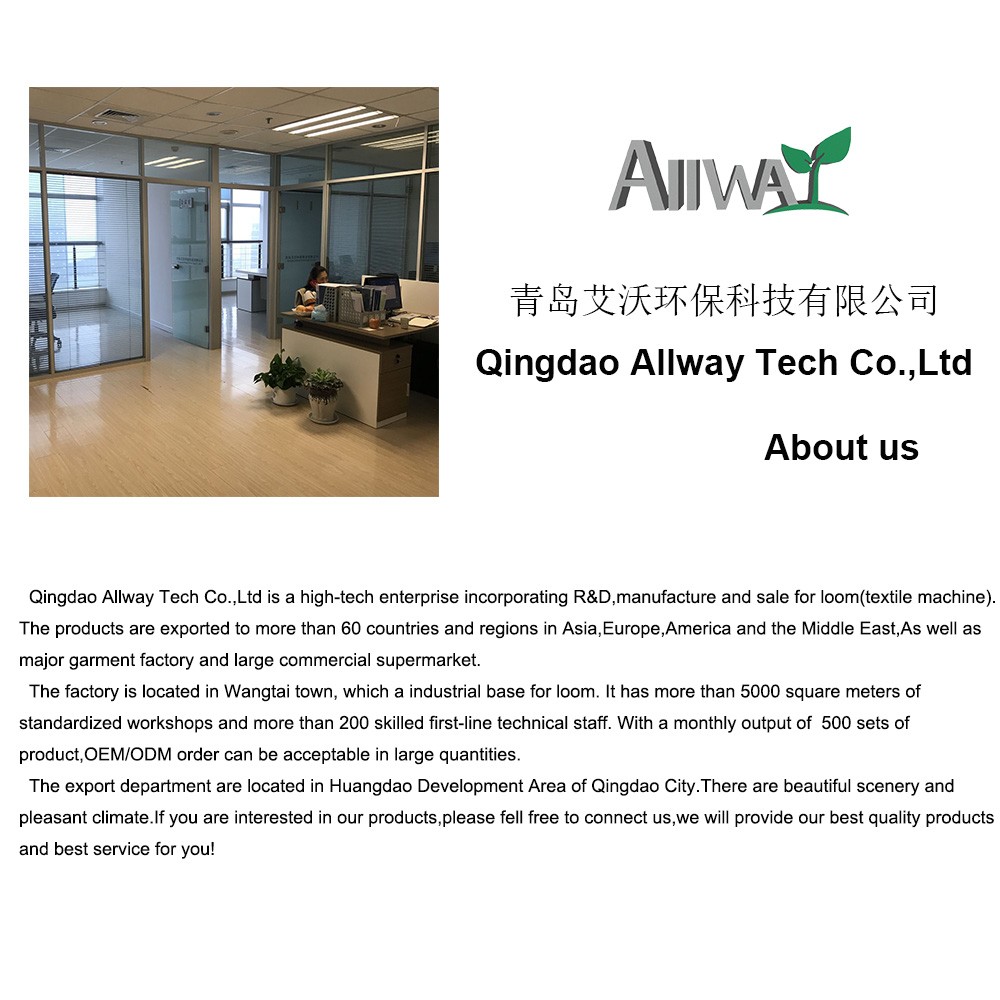 Qingdao Allway Tech Co.,Ltd Qingdao Allway Tech Co.,Ltd is a high-tech enterprise incorporating R&D ,manufacture and sale for loom(textile machine).The products are exported to more than 60 countries and regions in Asia,Europe,America and the Middle East,As well as major garment factory and large commercial supermarket.The factory is located in Wangtai which a industrial base for loom. It has more than 5000 square meters of standardized workshops and more than 200 skilled first-line technical staff.With a monthly output of 500 product,OEM/ODM order can be acceptable in large quantities.The export department are located in Huangdao Development Area of Qingdao City.There are beautiful scenery and pleasant climate.If you are interested in our products,please fell free to connect us,we will provide our best quality products and best service for you!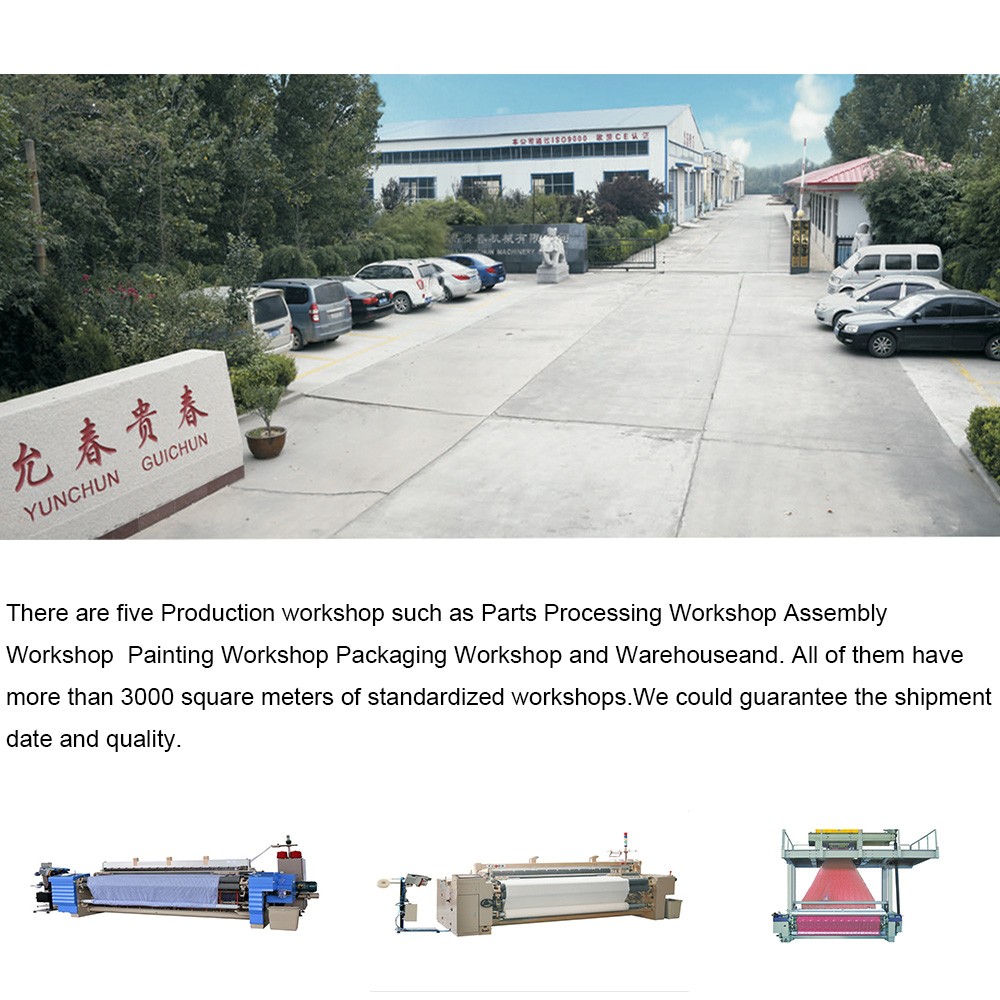 FAQ FAQ Q:Why do you choose us?
A:we are the manufacturer,with 20years experience.
Q:Which payment term is accepted?
A:30% in advanced payment+70% payment paid before shipment.
Welcome your inspection before shipment.
Q:whice countries did we export?
A: India, Bangladesh, Vietnam, Vietnam, and the Middle East, etc.
Q:How to visit your factory?
A:Our factory is in Qinggdao city, Shandong Province.
Welcome to visit us!
Contact us if you need more details on jute spinning and weaving machine. We are ready to answer your questions on packaging, logistics, certification or any other aspects about hair weave 3header sewing machine、auto weaving chain link machine. If these products fail to match your need, please contact us and we would like to provide relevant information.
Product Categories : Water Jet Loom